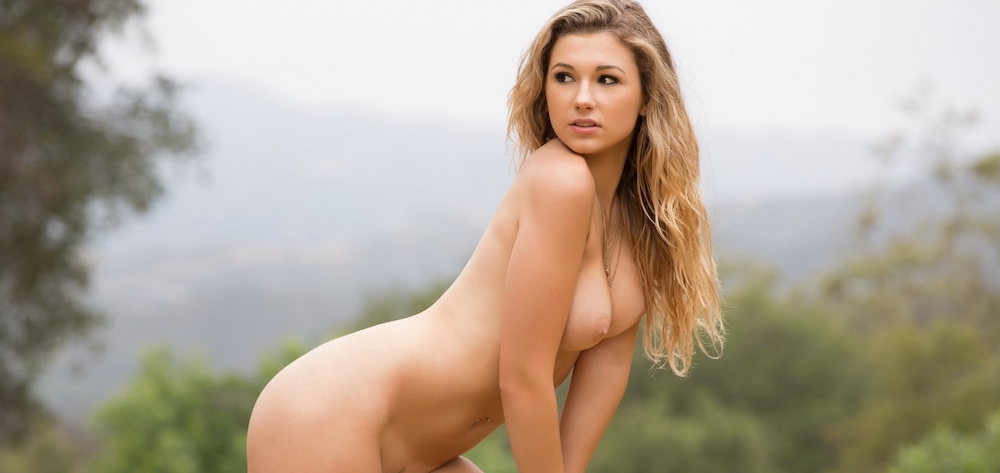 The views are breathtaking with the gorgeous amateur model, Julie Ambrose, and we're giving her all our warmest welcomes. This all natural lady has a lot to bring to the table. She's smart — a student, well traveled, total foodie, and her hot body is just the icing on the cake.
"Unfortunately, I love food!" she jokes, "Otherwise I would probably have a six-pack, but my best asset is definitely my breasts — they are beautiful and perky, and I also love the size of my butt." She's perfect to us with her gleaming smile and inviting curves. Watch as this lady gets in touch with nature like you've never seen before — undressing and lying atop big rocks and climbing trees nude on set in sunny California with photographer, Holly Randall.
"We began our shoot pretty early in the morning," she tells of of her first time shooting, "and it was freezing outside. I actually ended up climbing a tree and got a lot of splinters on my feet but it was totally worth it!" If you're loving Julie Ambrose as much as we are, don't go anywhere, cause our predictions are you'll be seeing a lot more of this beauty, right here on Playboy Plus…CONTINUE
Julie Ambrose – bio:
Birthdate: March 17, 1998
Birthplace: Virginia US
Height: 5′ 7″
Weight: 130 lbs
Measurements: 36C-26-38
Newcomer Julie Ambrose is a model that will make you feel all types of warm and fuzzy on the inside. Aside from her wavy blonde locks, curvy hips, and deep chocolate-brown eyes, this lady has a personality smarter than a whip and sweeter than pie. She's friendly, open minded, and well traveled too since she grew up all over. "I was born in South Florida to a military family, moving every year of my life," she tells us. "I've lived in places like Florida, Puerto Rico, and Virginia." We caught sight of this beauty because of her dedication and hard work. "About a year ago I submitted my photos to Playboy Plus and I actually didn't receive a call back for probably about six months," she explains, "So I submitted professional photos again — this time professional photos — and that's how I came to be here in LA with Playboy!" When she's not in front out our cameras, she's hanging with her dogs, and anything artistic. "I'm very creative. I'm a lot better at drawing than painting but I prefer to paint!" she says. Most of the time though, she's studying and working on finishing school. "I graduated high school two years early," she reveals. "Right now I'm about to be a junior in college and I'm currently studying computer science," she says. "For right now I definitely want to keep modeling but I'm just trying to finish my degree and probably do some stuff with forensics and cyber security with computers." Get to know more of the sexy and intelligent, Julie Ambrose right here, only on Playboy Plus.