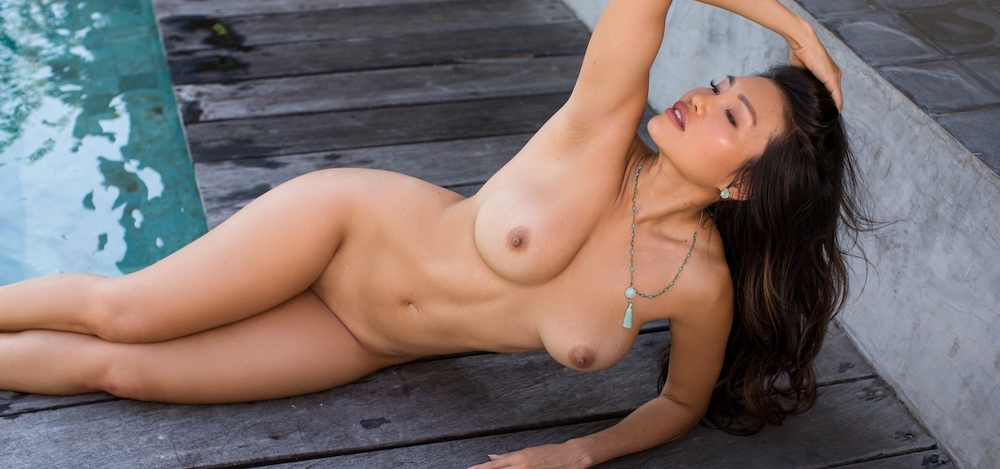 With looks to die for, Viviane Leigh is pretty, smart, and petite yet curvy in all the right places. Ready and willing to get acquainted will all her soon-to-be-fans, Viviane is on location in gorgeous Bali, Indonesia shooting with the photographer, Cassandra Keyes.
"I'm a fun loving girl," she says of herself as she steps onto the set of a large outdoor pool, in nothing but a white bikini and a bright blue kimono. "I love fashion and travel," she tells us. "I am wearing one of the kimonos I designed myself in [this] shoot!" With looks so breathtaking, Viviane isn't the least bit shy as she begins to show Cassandra's camera everything she's working with. "I felt so comfortable taking nude photos for the first time," she tells us thoughtfully, removing her bikini top.
"What I love most about my body is my booty and my smile. I keep fit with pilates and am pretty flexible and strong!" Now fully nude, Viviane reveals her totally fit figure and curves for the camera before hopping into the pool. When it comes to the opposite sex, this beauty needs someone who will keep her smiling. "The most important quality is a good sense of humor," she reveals of her taste in men… CONTINUE
Viviane Leigh – Bio:
Birthplace: Perth Australia
Viviane Leigh will knock you off your feet. With looks so beautiful and sultry, this new model hails from Perth, Australia. "I'm a fun loving girl who loves fashion and travel," she tells us of herself. "I was born in Australia and my parents are from Vietnam!" An accountant by trade and a model by passion, we first caught sight of this brunette beauty through her photographer, Cassandra Keyes. "Cassandra Keyes found me on Instagram when I was out snorkeling in the Gili Islands," she says of her Playboy story. "It must have been fate she asked me." For us, it's more like destiny, since Viviane has always dreamed of posing for us. "Growing up, I saw beautiful women with the cutest bunny outfits," she gushes. "The women were always so glamorous, delicate, yet strong and I knew always wanted to be a Playboy model." When she's not working as a model or accountant, you can usually find Viviane relaxing, staying fit, or cooking up something yummy in her downtime. "You can find me on a beach reading a book," she tells us. "I keep fit with pilates, [but] my special talent is cooking — I can make a delicious seafood chowder!" If you're digging everything that the gorgeous Viviane Leigh is about, just wait until you see her stunning pictorials, right here on Playboy Plus!
Check out also:
Krystal Lorrie – Playboy Babes Revisited
Playboy Babes Revisited – Laya Bella