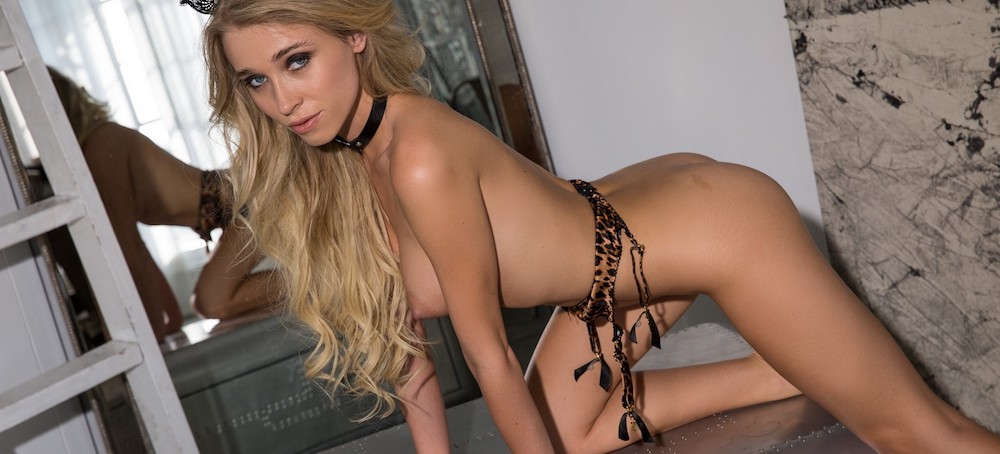 Meet our latest Newcomer, Riley Anne. Though she made her Playboy Plus debut last month in a Playboy Girlfriends feature, she is excited to be in the spotlight for this solo pictorial from the photographer, Cassandra Keyes. Feeling frisky, Riley is all dressed up in leopard-print lingerie and cat ears as she poses seductively.
"It's been a dream come true to work with Playboy," she gushes. Undressing with confidence, Riley tells us about what female empowerment means to her, and how it plays a role in her life and career. "Female empowerment is whatever makes each woman feel powerful and in control of their lives and bodies," she shares thoughtfully.
"For me, it's being in charge of my career and not at the mercy of a boss or agent," adds this professional model and performer. Want to learn more about the gorgeous and intriguing, Riley Anne? Make sure to stay tuned for her upcoming sets, right here…CONTINUE
Riley Anne – Bio:
Meet Riley Anne — a beautiful model and performer from Catawba County, North Carolina. A gorgeous and well-known model, Riley is a wonderful new addition to Playboy Plus. "I found magazines when I was little," she says of when she first encountered Playboy.
"It was almost impossible coming up in the 90s and 2000s and not see or hear about the brand!" Now more than ever, Riley is thrilled to be here. "I really envied the confidence and beauty of the girls when I was younger," she says. "It's been a dream come true to work with Playboy!" About five years into her career, Riley is just getting started but hopes to utilize her talents behind the scenes one day.
"Hopefully still in the modeling industry," she says of where she sees herself in the future. "Doing hair, makeup, or photography!" When she's not working, Riley loves to relax at home with a good show and her kittens. "I travel a lot, [so] when I'm home, I like to get all the snuggles I can," she says. "My idea of a good time is pajamas and Netflix!" Get to know Riley better, right here on Playboy Plus!