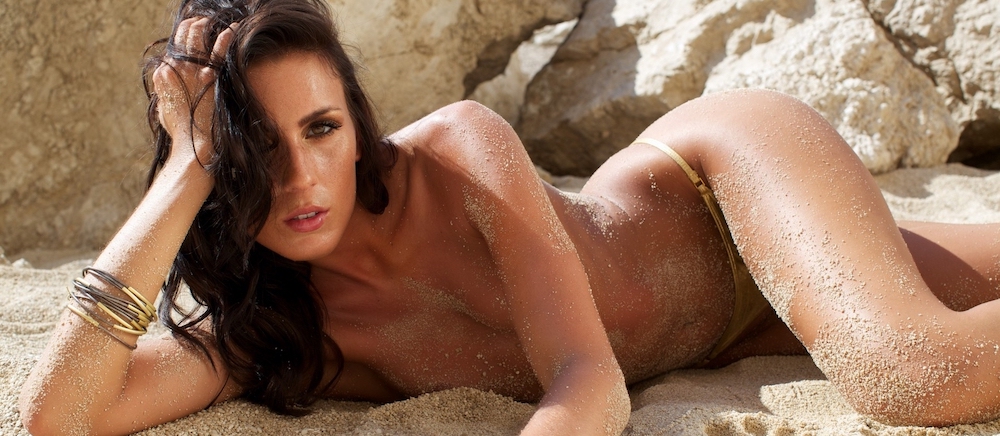 Out on the beautiful Greek island of Lefkada is the gorgeous International model, Barbara Kumiakova. This Playmate is shooting for her spread in Playboy Germany for March 2014. Out near the beautiful cliffside of the sea, Barbora's slender and all-natural body is perfectly sun-kissed as she lays atop the rocks, jumps into the bright and clear blue water, and gets irresistibly sandy all over. Her sultry and sensual gaze will have you wishing it was just you two alone on this island. Get hypnotized by her dark wet hair, tan body, face full of freckles, pink lips, and petite yet curvy figure. While shooting this amazing spread, locals were not too far away and Barbora embraced giving them a little show, too. "That was just a funny situation," laughs Barbora. "But I enjoyed the attention." Give all your attention to this gorgeous international beauty, Barbara Kuziakova, right here on Playboy Plus!
Barbora Kuzmiakova – Bio:
Birthplace: Stuttgart Germany
Height: 5′ 6″
Weight: 115 lbs
Measurements: 33-23-35
Wave hello to gorgeous international Playmate, Barbora Kuzmiakova. Most known for her spread in Playboy Germany as Playmate for March 2014, this lady is sweet, sassy and determined. Going to business school and training to work in the stock exchange, modeling is just one of her many passions. It is only natural that this Slovakia native who currently lives in Stuttgart, Germany needs a man who isn't intimidated by a strong woman. "The men are afraid of me, unfortunately," she laughs. But when it comes to her type, she's looking for someone as determined, who has a bit of a funny side and isn't afraid to take charge in the bedroom. "I am a member of the Mile High Club. I do not say more…" she tells us in her endearing accent. When it comes to the things she loves the most in life, she can't get enough of travel, good food, animals and fast convertibles. Fall for this smart and gorgeous all-natural brunette, Barbora Kuziakova right here on Playboy Plus!