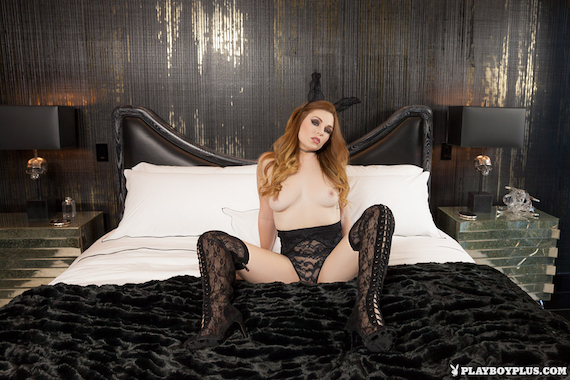 Cybergirl Tawny Swain pays homage to the Bunny in this set from photographer Jennifer Vaughn. In black lace and a set of bunny ears, Tawny's putting her seduction skills to good use. With feminine wiles like hers—natural red hair and pale, creamy skin—who wouldn't be tempted to play along? "Kindness goes a long way with me," advises Tawny. "I can't stand guys without manners—so say 'Thank you' and hold the door open for me." Behind closed doors, Miss Swain has a few tricks up her sleeve. "In the bedroom, take charge and don't be afraid to get kinky," she says. "Couples who get freaky together stay together!" Hop to it with the terrifically sexy Tawny Swain, only on Playboy Plus.
.
Check out also Jaslyn Ome, Shawn Dillon, Tishara Cousin, Hiromi Oshima
Tawny Swain – bio:
Birthdate: June 17, 1995
Birthplace: Atlanta GA USA
Height: 5′ 6″
Weight: 110 lbs
Measurements: 34B-25-33
We're all fired up for Tawny Swain, a model and student from small-town Georgia. She's all natural, with auburn-red hair, clear blue eyes and a delightfully open mind. "I grew up in Alpharetta, just north of Atlanta," she says. "I've always been in show business. I've been modeling, acting, singing and dancing since I was a kid, but I'm humble, and I never forgot where I came from." Tawny is the total package – she's called Nashville, New York and Los Angeles her home, and even has her own production company – but this is her first time posing for Playboy, and she just couldn't be happier with the results. "I'm totally comfortable with nudity, but I won't do it for any guy with a camera," she says. "If I'm going to pose nude, why not do it for the most prestigious brand in the world?" When she's not in front of the camera, Tawny is a social animal, and she loves to go out to the clubs with her friends. "The party doesn't start until we get there," she says. "And we're always VIP." Speaking of which, Tawny won't take any old pick-up line for an answer – she's got a strong sense of self, and she expects the men in her life to follow suit. "Sexy comes in all kinds of packages," she says. "But tall and well-built is a must. Be sweet and caring, but don't let me walk all over you – open the door for me, and then smack my ass on my way out!" Game, set, match – the point goes to Miss Swain, but the score is definitely in our favor.
Check out another Tawny Swain Galleries at Playboy Plus: