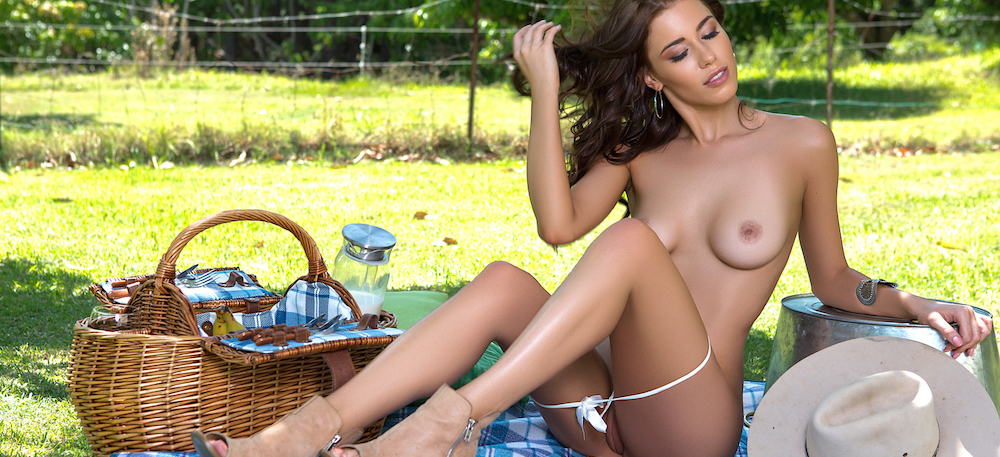 Meet newcomer Sophie Anne, an Amateur model from the Australian outback who's never posed nude before this very shoot. "Until recently, I hadn't had much experience modelling—I've only done a few photoshoots for friends," says the shy beauty as she plays with her dark-brown curls. "My shoot for Playboy Plus with photographer Cassandra Keyes was the most amazing first professional experience! We stayed in the cutest Airbnb house on a farm in the Hunter Valley near Gold Coast, Australia. We explored around the farm, finding exciting places to capture the perfect shoot." Stumbling upon a location they were pleased with, the brown-eyed brunette wearing blush-pink lace and a cowboy hat laid down her picnic blanket and proceeded towards the trees with a milk jug in hand. "I'm from the country so I'm used to wide open spaces and nature but I love living in the city and all the advantages that come with it," she says as she pours the milk over her cute bum. "In my heart, I think I'm a bit of a hippy." Embrace Sophie Anne's message of peace and love, right here on Playboy Plus.
.
Check out Aussie Models at Playboy Plus – Emy Richardson, Georgie Gee, Larissa Bartolo, Azzra Hughes:
Sophie Anne- bio:
Birthdate: December 09, 1995
Birthplace: Brisbane Australia
Height: 5′ 4″
Weight: 100 lbs
Measurements: 34C-24-34
Growing up in the Australian outback, Sophie Anne wasn't afraid of getting her hands dirty and constantly sought out adventure. "I loved living in the country. I would spend my days riding motorbikes, horses and just adventuring," says the brown-eyed brunette with her sexy Australian accent. "My parents loved fishing so weekends were spent at our beach house in a little coastal town on the border of Queensland a few hours away which I would explore islands, swim and go fishing with my family. I do love my city life, but I will always be a country girl at heart." Working in administration at an accounting firm until she completes her accounting degree, Sophie hopes to eventually become a financial planner. "I don't have as much spare time as I would like, but I usually fill my afternoons with the gym, studying and cooking. Cooking relaxes me and gives me a real sense of pride," says the sweetheart as she plays with her soft curls. "When I get a bit more free time, I love to catch up with friends for bush walks, picnics and beach trips then end the day at a bar somewhere having a wine or cocktails." Rescheduling a bush walk to meet with Playboy Plus, amateur model Sophie admits she was nervous about it, but took to it like a koala to a eucalyptus tree. "Until recently, I hadn't had much experience modelling, only a few photo shoots for friends," she explains. "Ever since I was about 10 years old, I've been obsessed with the Playboy brand from watching Girls Next Door with my mum. Afterwards, I told my mum I wanted to be Playmate and amazingly she went out and bought me all the seasons. I wanted to be like the women I saw. They were so confident in their own skin no matter their shape, size or ethnicity and I felt like it was really empowering." Beautiful inside and out, Sophie Anne is a strong woman from Down Under that no one is soon to forget.