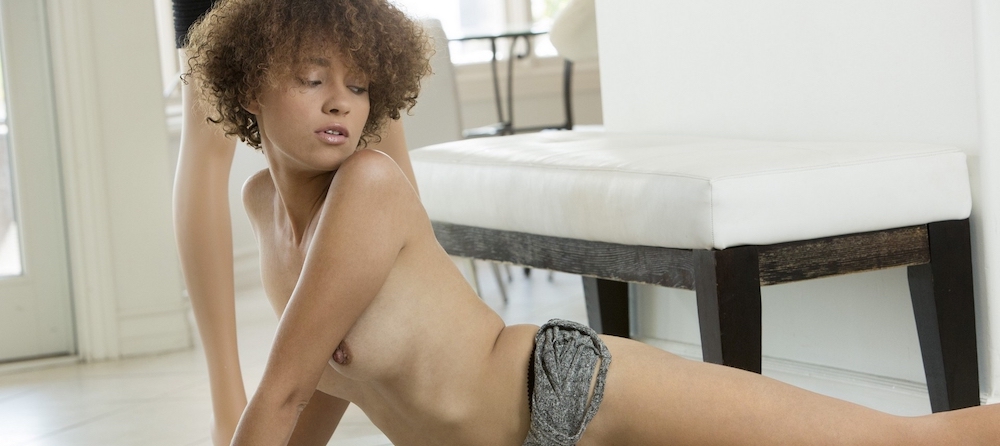 Newest Amateur model, Sheila J. is a breath of fresh air in her first shoot ever with Playboy Plus. Her beauty is radiant and effortless with her soft smile, perfectly curled hair, long, long legs, and all natural bust. Miss J. is spending some time alone today at home, in her tight knitted gray dress that hugs every part of her body just the right way — you can only imagine what it might look light underneath. Lucky for you, Sheila is ready to show off everything she's working with. Watch as the gorgeous rays of sunlight come through the window, hitting each inch of her body just perfectly. First, she teases a little bit of her dress straps, showing off her rounded breasts, only to shimmy out of the dress completely to reveal her lace black thong and toned ass. It's normal to feel a little hot when looking at this lady — it's most likely because she knows how to pose in front of a camera. "I have been modeling for four years now, and love it with every beat of my heart," she says. Fall for this new model's extremely sultry look and sweet smile, right here only on Playboy Plus!
Kat Kohls, Erin Cornish, Katie Carroll, Kendall Rayanne
Ashley Zeitler, Tierra Lee, Brandi Corbin, Nikki Ryann
Sheila J. – bio:
Birthdate: March 18, 1990
Birthplace: Los Angeles
Height: 5′ 10″
Weight:126 lbs
Measurements:32-24-36
You're sure to get butterflies in your stomach for our newest model, Sheila J. This long-legged, beauty stands tantalizingly tall at 5'10 with her petite frame, perfect spiral curls, hazel-green eyes, and all natural body, it's tough not to get all the feels at just once glance of her effortless beauty. Currently living in Los Angeles, California, Sheila has been modeling for only four years and has a real go-getter mentality that is sure to get her to reach all her wildest dreams. "I have been modeling for years now, and love it with every beat of my heart," she says earnestly. "This is a full-time business for me." Actually, modeling isn't all this artistic lady does, "I act, write, dance, and I am just a goofy person," she tells us. For fun, you can either find Miss Sheila blogging, shopping, or engaging in some one of her favorite leisurely activities, extreme couponing. "I believe no one really understands how the real world of modeling," she tells us. "That's the very premise that got me starting extreme couponing, a need that eventually grew to become a fun hobby that I simply just can't get enough of," she says with a smile. Spend some time with the smart, multi-talented, and beautiful lady that is Sheila J., right here only on Playboy Plus.