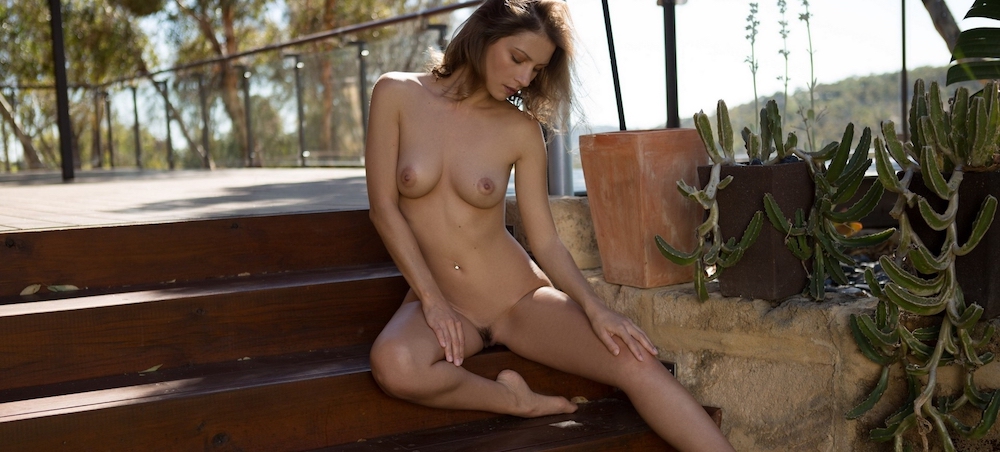 Stunning and totally delicate is Newcomer, Miluniel Louis. A tall, slender brunette from Belgium, you'll fall hard for this new model with the click of a button. On set in gorgeous floral lingerie and a pale pink robe with the photographer, Cassandra Keyes, Miluniel is just waking up and heading out to her garden to take in the beautiful sunshine and tend to her flowers. Totally dreamy, she's ecstatic to be posing for you. "I've always wanted to be a part of Playboy," she tells us sweetly. "So when Cassandra Keyes contacted me for a Playboy photo shoot, I was really happy!" In no time at all, you'll be able to get a look at her perfectly curvy, flawless figure. "Posing nude is totally natural for me," she tells us. "I'm proud to be a part of Playboy." Reaching for the hose, this pretty brunette begins to water her plants, only to get her nude body all wet. "My body is one-hundred percent natural," she says confidently. "It is not perfect, but I like it." When it comes to her favorite part, Miluniel believes the eyes say everything. "I think that my best asset would be my eyes because they can express a lot of emotions." Gaze deeply into them, right here, only on Playboy Plus!
Miluniel Louis – Bio:
Birthplace: Brussels, Belgium
Meet the lovely model, Miluniel Louis. This brunette babe hails from Belgium with a charm that is as sweet as she is sexy. "I grew up in the countryside of Belgium. It was very peaceful, but I was glad to go to a city for my studies," Miluniel says of herself. "I've always been curious about everything, willing to discover the world, and make new experiences." Having finished her studies, this gorgeous lady is now a full-time model. "I did study computer graphic design and photographing in college," she tells us. "I'm not a student anymore! And I'm not only a model, I'm also a photographer!" We first caught sight of this multi-talented lady from her photographer, Cassandra Keyes, and after a few emails, it was a done deal. "I've always wanted to be a part of Playboy," she gushes. "So when Cassandra Keyes contacted me for a Playboy photo shoot, I was really happy!" A fairly experienced model, Miluniel will have you swooning at her photos, as she shows off her all natural, slender figure. "I started modeling a few years ago after winning a beauty pageant," she explains thoughtfully. "So I guess I can say that I have a lot of experience, but I keep learning every day." When she isn't hard at work traveling from country to country for shoots, she likes to go home and spend quality time with the people in her life. "I travel a lot so, when I am abroad, I like to visit the area and to meet new people," she says excitedly. "When I'm at home, I try to spend as much time as possible with my friends and family." If you're loving everything this sweet model is about, just wait until you see her gorgeous sets, right here on Playboy Plus!