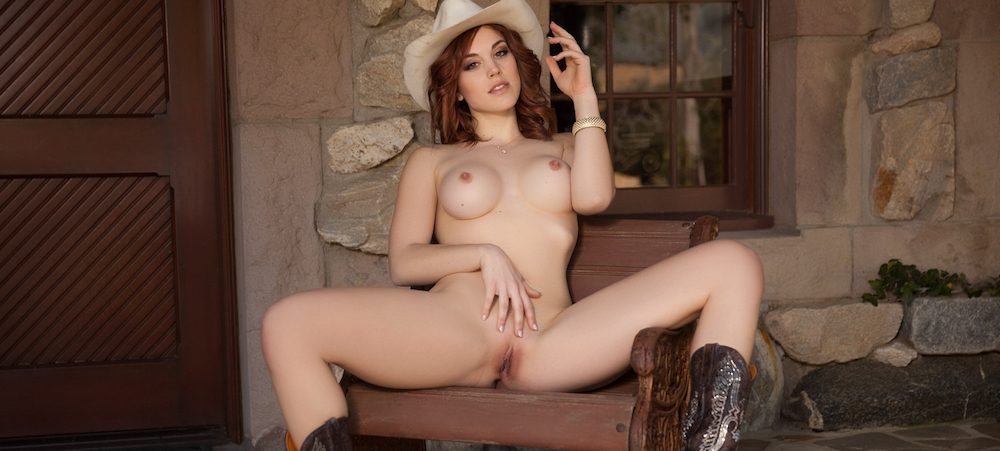 Newcomer Molly Stewart is a fiery redhead who seeks adventure wherever she goes—and that wasn't about to change once she reached photographer Michael Valentino's set. "I've always been someone who loves adventure," says Molly as she puts on her cowgirl hat. "I've moved 10 times in the past 5 years and I love all those new experiences! I've always wanted to travel and in my adult life, love made that happen." Calling Seattle home for now, our sexy, midnight cowgirl with long, lean legs is ready to show you how happy she is that her adventurous spirit has taken her to Playboy Plus. Wearing a revealing red halter top with tiny jean booty-shorts, the six-foot tall ginger will make anyone a fan of redheads. "I got to wear one of my favorite outfits ever: a cute cowgirl hat with sparkly, rhinestone boots. It was gorgeous," says Molly as it all comes off. "I would have to say my best assets are my eyes. Those are my most complimented feature besides my height. The eyes are the window to the soul and mine have a story to tell." Watch Amateur model Molly Stewart tell her story with her hot bod, right here on Playboy Plus.


.

Kat Kohls, Erin Cornish, Katie Carroll, Kendall Rayanne

Ashley Zeitler, Tierra Lee, Brandi Corbin, Nikki Ryann

Molly Stewart – bio:

Birthdate: October 27, 1991
Birthplace: Seattle Washington
Height: 6′ 0″
Weight: 155 lbs
Measurements: 32DD-27-30

Meet Molly Stewart, a beautiful redhead with legs for days and a smile that will make you weak in the knees. "I love Marvel comics, riding motorcycles and I enjoy older music with a good beat," says the six foot tall model. "I enjoy hiking and being outdoors—that's one of the great things about Washington. One of my favorite outdoor activities is riding on my motorcycle. I'm really into sports bikes and cars." Having moved around the United States over ten times in the last five years, the fit gearhead has never felt more at home than she does in Seattle and Seattle loves her right back. "I like being in the Pacific Northwest in the beautiful city of Seattle. It might rain a little too much, but it's green as hell," says the sexy beauty as she crosses her long legs. "I'm honest as hell, although, maybe that can come off badly at times. I'm not afraid to speak my mind and stick by my ideals." Lucky for us, her ideals include posing for Playboy Plus and now that she's here, she's going to make sure every single one of her fans really gets to know just who Molly Stewart is. "I've led a very interesting sex life, but I'm always into new experiences. I fantasize about fulfilling someone else's fantasies," she says with a wink. "My biggest turn-on is the feeling of fingers slowly sliding down my neck and my back. Bare skin and bare skin is one of my biggest turn-ons. Oh my god! It makes me feel so sexy!" Explore Molly Stewart's bare skin and more, right here on Playboy Plus.