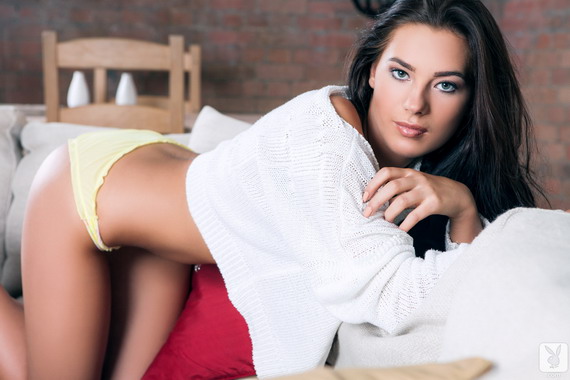 Klaudia Badura is not so innocent in this fun, flirty set from photographer Jody Rawlins. "For this set I wore a cute jumper and knickers – that's a sweater and panties for you American boys – with a cute pair of pink socks," says Klaudia. "The sun was shining and it was a really beautiful day." Slipping her sweater over her head, she moves over to the couch, and with an alluring smile, reveals a perfect pair of natural breasts. Before you know it, her panties are on the floor, and she's fully, deliciously nude, and more than ready to show you everything she's got. With a gorgeous girl like Klaudia, every day is beautiful – so sit back, relax and soak it all up with Miss Badura, only on Playboy Plus.
Klaudia Badura – bio:
Birthdate: March 15, 1990
Birthplace: London England
Height: 5′ 7″
Weight: 119 lbs
Measurements: 34B-24-34
.
Kat Kohls, Erin Cornish, Katie Carroll, Kendall Rayanne
Ashley Zeitler, Tierra Lee, Brandi Corbin, Nikki Ryann