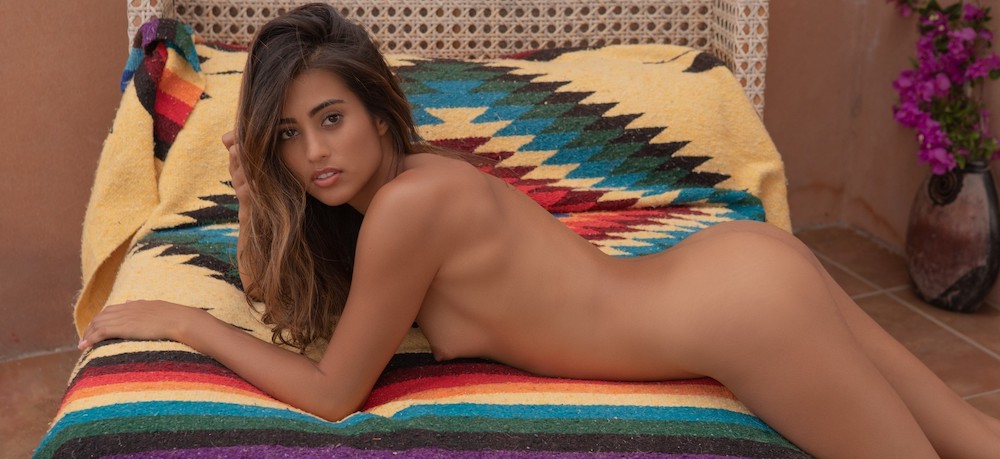 Katherinne Sofia will bring a smile to your face in this gorgeous pictorial from the photographer, Cassandra Keyes. Wrapping up her time shooting in Mexico with this third pictorial, she couldn't be happier with the way it turned out. "My personal experience with Playboy thus far has been incredible," she says, "I loved the production!"
Dressed in all white lace, Katherinne looks angelic and totally dreamy as she steps out onto the balcony of her villa. Gazing out and deeply into Cassandra's lens, she begins to undress with the greatest smile on her face. "Of course I would want to do more with Playboy," she gushes. "What I love most about my body are my eyes and my booty!" Now totally nude, Katherinne begins to tell us about what she looks for when dating someone.
"The most important quality is a strong personality," she begins, "what I consider the perfect first date is Netflix and good beer!" When it comes to the bedroom, she enjoys the little things. "Hands down my biggest turn-on? Kisses on my neck," she says. "My biggest turn-off is drama." If you're loving this third pictorial from Katherinne Sofia, let her know in the comments below, right here on Playboy Plus!
Check out another Katherinne Sofia Galleries: