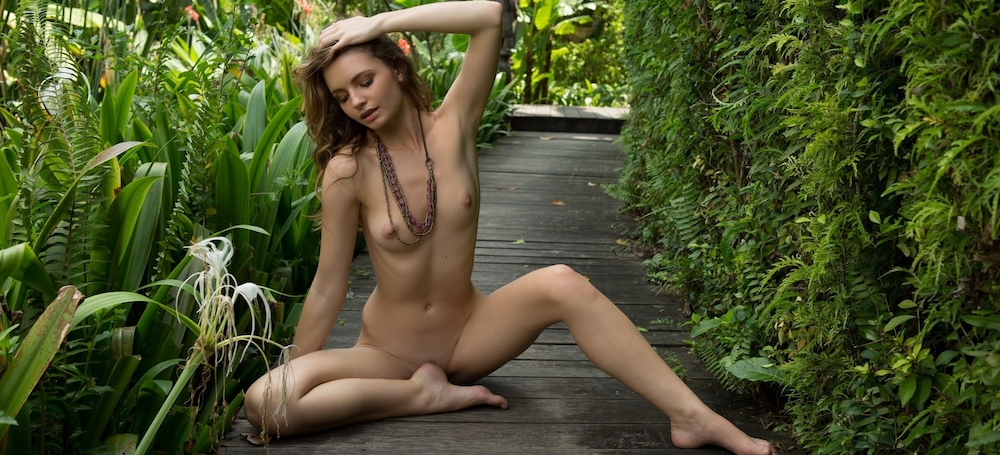 Meet Evelyn Sommer, a pretty and petite model from Australia with an itch to see the world. Doing just that, we flew Evelyn out to Bali, Indonesia to shoot with photographer Cassandra Keyes in one of the most beautiful locations. Surrounded by greenery and sunshine, Evelyn is pleased to meet you. "I think I'll look back on it and be very happy I gave it a shot," she says of her time shooting. "I want to be a Playboy model because they're so renowned and it's a great thing to be a part of." Travel through what feels like the rainforest with this smiling and bright beauty. Dressed in a kimono and bikini, Evelyn dances around and flips her long red hair to the music, while looking longingly into Cassandra's camera. Soon enough, she gives us a little peek of her all-natural curves. "I've been told I have a nice butt. I like my stomach for some reason, it's fairly flat and that's handy when you're wearing tight pants," she laughs. When it comes to the opposite sex, Evelyn likes a guy who's fun and not too serious. "I like a guy who can make me laugh, who doesn't take himself too seriously and is happy to just go with it." If you're loving everything you see, let her know in the comments below, right here on Playboy Plus!
Evelyn Sommer – Bio:
Birthplace: Melbourne, Australia
Height: 5′ 6″
Weight: 110 lbs
Measurements: 32C-25-32
If you've got a thing for spontaneous and beautiful redheads then look no further than Playboy Plus' latest addition, Evelyn Sommer. Coming to us from Sydney, NSW, Australia, this gorgeous 23-year-old model is sure to become a new fan favorite. "I grew up in Outback NSW on a sheep and wheat farm," she tells us in her endearing accent. "It was nice, I had lots of weird and wonderful pets and got to explore all the time." We first caught sight of this petite babe through her photographer, Cassandra Keyes and instantly invited her to pose. "I was found by Playboy," she tells us of her story. "At first I couldn't believe it; I thought, no way! But it was legit," she says smiling from ear to ear. "I got to come to Bali for a lovely little holiday and we shot in some amazing spots." An experienced model, Evelyn has been posing in front of cameras for the last three years and absolutely loves it. She also studies business and Japanese language in school. "It's the best job ever and the only job I've ever been good at. It has taken me overseas and to amazing places," she tells us. When she's not working or hitting the books, you can usually find this free-spirited babe enjoying life with friends. She also loves to work out, read and go out for good food, too. "I read a lot— probably far too much," she laughs. "I love doing things I've never done before with friends and making new experiences!" If you want to learn more about this beautiful model, stick around for her sets, right here, only on Playboy Plus!