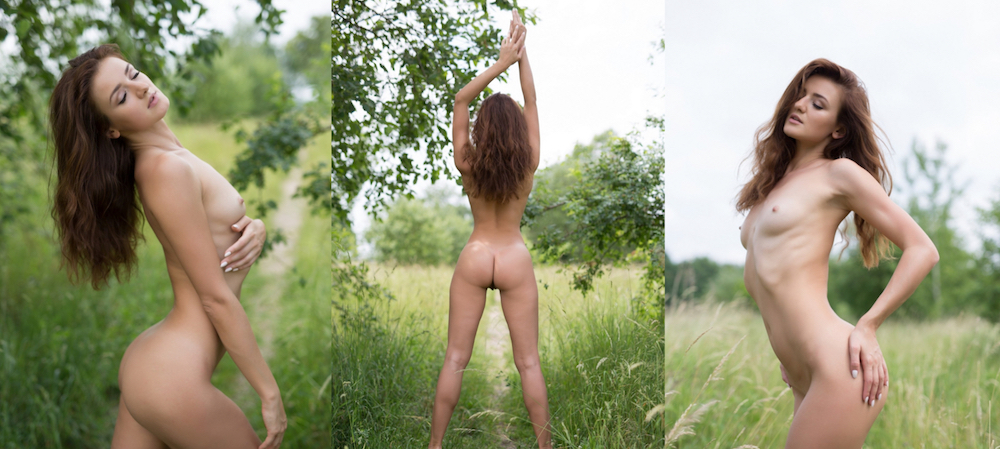 Get in touch with nature with the gorgeous Newcomer, Elina Love. Walking through the grand wilderness, she's wearing nothing but a tee on set with the photographer, Henrik Pfeifer. Luring her viewers to come and join her, you'll fall instantly for her lovely smile and hourglass figure. "I came to a casting call in Ukraine," she tells us of her Playboy journey. "I want to be a Playboy model because I have dreamed about this since my childhood!" Getting off to an amazing start, Elina is all smiles as she sets down her blanket and begins to tease her clothes until she's left totally nude. Doing her best poses for the camera, Elina is confident. "I think my body loves me," she laughs. "I don't need to do a lot to have a nice form." A nice form indeed, Elina. Stick around for more of her sets, coming soon to Playboy Plus!
Elina Love – Bio:
Birthplace: Kiev, Ukraine
Height: 5′ 7″
Weight: 108 lbs
Measurements: 33B-23-36
Fall for Elina Love from Kiev, Ukraine. With auburn brown hair, a sweet, seductive smile, friendly demeanor and a dazzling hourglass figure, Elina might just be the Eastern-European woman of your dreams. A professional model, Elina has been posing for cameras for the last five years. "I finished economics in University, but I really like the work I'm doing," she tells us. "I really love photoshoots. I'm a very emotional person and I like to show different emotions to the camera." We first caught sight of this lovely lady through a casting call overseas. "I have always dreamed about this since my childhood," she says of posing for Playboy. "I find it very artistic and natural— not dirty," she assures. When she's not hard at work, you can either find Elina doing something fun outdoors or spending time with friends. "I love the mountains," she gushes. "I [also] like hot weather so I prefer to go to the beach in my spare time." When it comes to relationships, this lady likes attention from both men and women. "I'm bisexual," she tells us, though right now she is dating a man. "The most important thing a guy can do in the bedroom is show me attention," she says. If you want to know more about this interesting beauty, stay tuned for her sets, right here on Playboy Plus!
Top 10 Ukrainian Babes in Playboy: