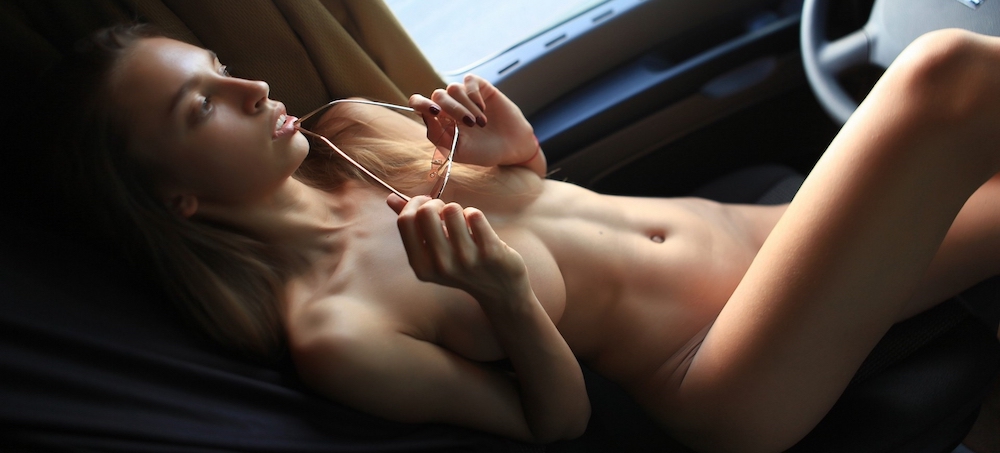 Pull over and get a good look at the ever so sexy, slender, friendly and pretty international model, Elin. She's gracing Playboy Plus all the way from her home country of Ukraine and we couldn't be happier to have her here. She's on set, on the road, and ready for you to take a ride with her in her large blue semi-truck. This youthful lady is gorgeous as her long straight brown hair wisps with the wind as she slowly peels off layers off to show you her beautiful all-natural body. She's ready to get your engine going as she sensually removes her black lace bra — revealing a pair of large, perfect breasts. But that's not all, in what feels like no time, she's completely naked and inside the truck — feet up on the dash— giving you the best view imaginable. Stick around awhile, and take a ride with the international beauty that is Elin, right here on Playboy Plus.
Elin – bio:
Birthdate: October 22, 1995
Birthplace: Kiev, Ukraine
Height: 5′ 10″
Weight: 110 lbs
Measurements: 35-22-35
Tall, sweet, slender, and oh so sexy is the international model, Elin from Kiev, Ukraine. This 22-year-old model is here at Playboy Plus for the first time, but don't be fooled, this lady has loads of experience in modeling — mainly posing in artistic nude and glamour shoots. She's taking the world by storm, and it really is no secret why after you've gotten a good look at her. With long straight caramel brown hair, a long slim and smooth torso, and sparkling brown eyes, it's no wonder people all over the world are falling madly in lust with her. Not to mention their favorite part of Miss Elin: her all natural breasts. Large and round, they will have you in awe and pleasantly surprised. When she's not in front of a camera posing, you can find this model traveling, hanging out with friends, dancing or playing sports — she loves to swim. Spend some time with the lovely and outgoing beauty that is Elin, right here on Playboy Plus.
Top 10 Ukrainian Babes in Playboy: