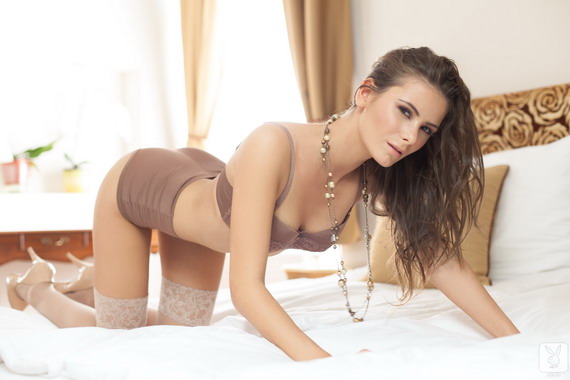 First-timer Cosmo makes quite the first impression in this romantic set from photographer Robert Haas. Smooth, lithe and all natural, with brown hair and brown eyes, Cosmo seems like the perfect girl next door – but to do you one better, she hails all the way from Budapest, Hungary. "This set was very me," says Cosmo. "I wore some elegant lingerie in soft champagne and tan colors, and I was lying on the bed at a lovely hotel. Very romantic!" Indeed, as she slips out of her top and panties, you'll be having some rather lovely (and rather indecent) fantasies. "Robert Haas is one of my favorite photographers," she says. "I started out with him, and I really love his pictures. Posing for Playboy means so much to me, because it's a chance for me to prove myself as a model. I hope you guys like the pictures!" 'Like' isn't strong enough a word for us – if you're just as smitten with Cosmo, leave her some love in the comments section.

Cosmo – bio:
Birthdate: May 18, 1991
Birthplace: Budapest Hungary
Height: 5′ 5″
Weight: 115 lbs
Measurements: 33B-23-35


.