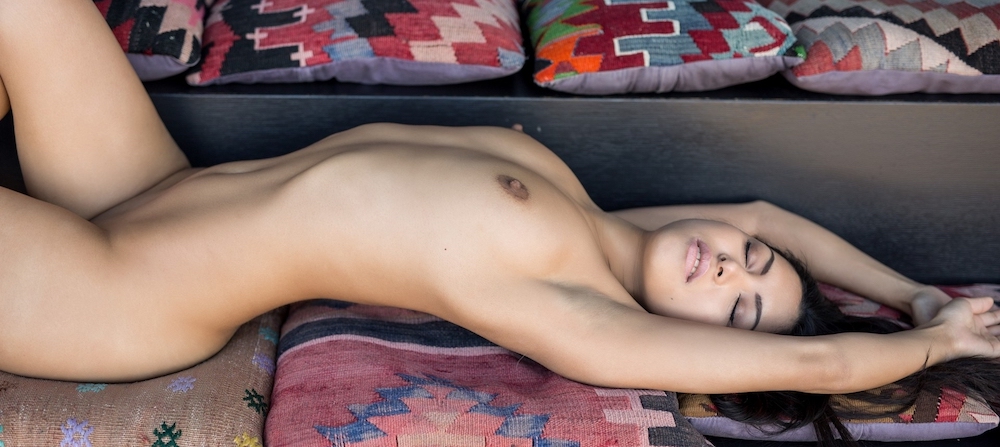 Chloe Rose may be the total package: smart, funny, and absolutely beautiful. Get a good look at this brand new model and she sweeps you off your feet with her long, sleek brown hair, striking eyes, and totally natural hourglass shape. Coming to us all the way from Germany, this South African native has been modeling for about five years before she got the offer to pose for us. "It is an honor," she says of shooting. On set with the photographer, Henrik Pfeifer, Chloe is a true natural as she slowly undresses from her jean jacket and shorts. "My best assets would be my face, breasts, waist, and behind," she tells us of her body. "I like my face because I can express emotions in my own unique way, my breasts because they're perky, and my waist and behind because they give my figure a
beautiful shape." When it comes to life outside of modeling, you can usually find this brunette babe meditating, drawing, or spending time with family. "My special talent is that I can draw and paint," she tells us. "And I can't live without laughing, meditating and my family." If you want to learn more about the lovely Chloe Rose, stick around for more sets from her very soon, right here, on Playboy Plus!
Chloe Rose – bio:
Birthplace: Singen, Germany
Height: 5′ 3″
Weight: 113 lbs
International model, Chloe Rose is enchantingly beautiful. "I'm of Asian and South African descent," she tells us of herself. "I grew up in South Africa near Cape Town. Later, I immigrated to Germany when I turned 12. It was quite an experience!" Still living in Germany, this brunette beauty travels near and far for her job as a professional model. "I have been modeling for five years," she shares with us. "I was surprised — one day when I found a shooting request while just going about my day and checking emails," she says. "I am really grateful that photographer, Henrik Pfeifer found me!" For Chloe, posing nude is no big deal. "It is an honor. The photos are erotic and tastefully taken," she says of Playboy Plus. "I feel comfortable posing nude; it's something that comes to me very naturally." When it comes to her favorite parts of her body, Chloe has a few, and we couldn't agree with her more. "My best assets would be my face, breasts, waist, and behind," she giggles. "I think my body is very feminine." When she's not modeling, you can usually find Chloe outside enjoying the weather or getting creative a different way. "I like to meditate, paint, exercise, or go outdoors in my free time.
It gives me a sense of joy inside and makes me feel good," she gushes. Stick around a while, and learn more about the lovely, Chloe Rose, right here on Playboy Plus!